We often don't consider the role our lungs play in our lives and in the wellbeing of our body until we experience problems in breathing.
We breathe every second, every moment. every time. It is the most basic life function that our body performs, the inhaling of air (not pure anymore though!) and exhaling of the used air. For as long as it is normal, it goes unnoticed. But as soon as we encounter even the slightest of a problem, we panic and it becomes too obvious, disrupting our normal lives. A small blockage, a minor inflammation and the smallest of effort in breathing makes us run for an effective solution.
Besides, we are now living in urban gas chambers where not a speck of air is breathable let alone clean. Our children are taking in with every breath, millions of harmful particles that make way for decreased life expectancy and numerous respiratory diseases. Asthma patients, elderly, adults, teenagers, infants- no one is spared by the polluted air. Each one of us have our lungs at stake!
The journey of getting Bronchicure into existence began with a respiratory scare itself! In 2015, Mr. Suresh Garg, our founder, was traveling to Germany on a business trip and suddenly suffered from an asthma attack. He could not find the inhaler which he generally carries with him. He rushed to a pharmacy and asked for a medicine for wheezing. He was given a herbal syrup. This really surprised him because in India, on his countless visits to asthma doctors, he has never heard of such a product. In India, only inhalers were available which have steroids in them. This incident impacted him deeply and in the quest of a solution, he ended up creating one!
This led to the birth of Green Cure and its landmark product Bronchicure.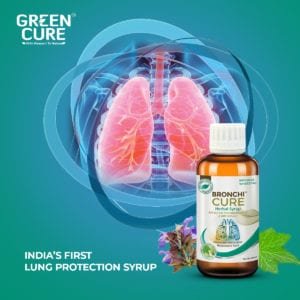 Bronchicure is made, with an aim to "serve" your lungs and make breathing easy. It is formulated with the combination of ancient Indian Ayurveda and modern German engineering. Bronchicure is where the east meets the west, it has best of both the worlds.
Bronchicure is based on the philosophy of combating toxins with the prowess of age old Ayurveda and modern German engineering. It is India's first lung protection that works magic for bronchitis, asthmatic problems, wheezing, dry cough, inflammation of respiratory tract and irritation. This preparation produces expectorant, anti-inflammatory and broncholytic effect and has a fast action formula.
Equipped with 100% herbal actives and exotic ingredients like Ivy leaf extracts and Thyme leaves extracts, Bronchicure is one stop solution to all the respiratory evils. Ivy leaf has the ability to dilate bronchioles, thereby relaxing the airways and taking care of the thick mucus that cannot be expectorated. Thyme leaves are enriched with antibacterial, antifungal and spasmolytic properties, so it fights against agents that cause bronchitis and helps to quell a spasmodic cough.
Bronchicure does not discriminate and knows how to love the lungs of all- children, adults and elderly. It takes extra special care of the lungs of asthma patients and works even for smokers. It fights the toughest of the dry coughs and starts working from the very first dosage. It is completely free from excipients such as EDT, PEG, Mineral and paraffin oil, paraben, PPG and any sort of artificial fragrances and steroids, making it the first of its kind in the world of respiratory medicines. Strictly based on the guidelines given by EU Norms, Green Cure's Bronchicure has many certifications to its name like Safe Cosmetics Australia, Australia Made Safe, Australia Non-Toxic, to name a few. Green Cure is also a proud Certified member of organicbeauty.com. The most distinctive feature of Bronchicure is that it has been conferred with vegan status, again a trailblazer in the market of respiratory syrups.
Bronchicure is the best-selling product of Green Cure and is loved by "lungs" of everyone, everywhere!
You might want to read the Manual we call – "The World of Bronchicure"